Posts tagged "mary valle"
A round-up of recent religion and media stories in the news.
A round-up of recent religion and media stories in the news.
An excerpt from Cancer Doesn't Give a Shit About Your Stupid Attitude: Reflections on Cancer and Catholicism by Mary Valle.
The ostensible purpose of some images is to teach us something about life and death, but, Mary Valle asks, what else is going on when we seek out images of sick women's bodies.
...the Catholic Church seems to find "radical feminist" ideology.  Even if the gatherers are cookie-hawking tweens.  And members of a non-Catholic organization.  Not affiliated with the Church in any way. To the ever broadening category of 
Catholic Church vs. Women
, we add today's entry:  the United States Conference of Catholic Bishops has formalized it's disapproval of...
Some of the best religion and media reads from around the webs this week.
Mary Valle:
 Fr. Marcel Guarnizo, the priest who denied Barbara Johnson (also known as the "lesbian Barbara Johnson") communion at her mother's funeral,
has been put on administrative leave
for having "engaged in intimidating behavior toward parish staff and others that is incompatible with proper priestly ministry."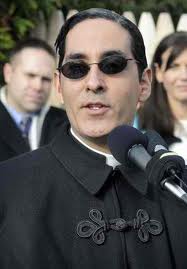 By Mary Valle My last semester in college, I spent a lot of time taking phone calls from my brother Michael.  He was nearing the end of his working life and about to go on disability due to HIV. He'd call me, in Massachusetts,  from his office in Beverly Hills and I'd hog a communal phone...