by Abby Ohlheiser
Rick Perry, Governor of Texas, hugged the praise musicians one by one as he took the stage for a second time at The Response two weekends ago, a day-long prayer and fasting rally in Houston, funded by the American Family Association (AFA).  He had amassed a crowd of over 30,000 who were happy, dancing, and calling for a Christian infusion into what they see as an America in grave danger–in bad need of God's mercy.  I use the possessive here because Perry was, along with the praise music, was infusing the audience. In many ways this was his stage, his rally, his call to God. And, as we now know (but had already guessed), The Response was also a warm-up routine for Perry's announcement of his presidential candidacy one week later.  The theology of the event, both of a Christian religion and an American religion, was specific: the nation must revive.  Young people must convert.  And to the sort of Christianity that abides by Mike Bickle's "pure reading" of Scripture. Bickle, who runs the International House of Prayer in Kansas City, was one of the most heavily featured speakers at The Response.  As he said at the rally:
There's a crisis of truth in the pulpits today in our land. That, in the name of tolerance, even in the name of love, we are redefining love that is not on God's terms. Jesus is God. There is no other God than Jesus. Father, son, and Holy Spirit. All the world religions, they can say what they say. There is no other god besides Jesus. There is no other standard of truth.
In other words, God on His terms.  And by His terms, Perry and Bickle meant the terms outlined by the event speakers.  "It's time to go public," continued Bickle, and the crowd went wild.  Outside, as Bickle rallied against a tolerant interpretation of the concept of "love," Christian and GLBT groups protested the event with signs calling for the separation of church and state, signs referring to the American Family Association's designation by the Southern Poverty Law Center as a hate group, signs calling Perry–and not in a nice way– "Pastor Perry."
From inside Reliant Stadium in Houston, Perry appealed to his base of choice, that particular group of monied, influential, and conservative political leaders we usually call the Religious Right.  He did so by showing he could motivate the voting troops, that he could get the attention of–put the Spirit into–a roomful of Christians.
Whatever his particular theology, his association with the AFA and with event speaker Pastor Hagee–whose support John McCain eventually rejected after footage of a sermon surfaced in which Hagee used Jeremiah to prove Hitler was part of God's plan–proved Perry was somebody who could muster broad Evangelical support.  At The Response, speakers repeatedly commented on the evident denominational diversity of the crowd, a display Perry and the event's organizers had anticipated and encouraged.  As spokesperson Eric Bearse said to me in an email before the event, "It will indeed be a diverse cross-section of the Body of Christ coming together, despite theological differences, to pray in unity for our nation."
The Response's organizers insisted the event was not a political one, a point which Perry emphasized by opening his time at the podium by addressing the nature of God. "His agenda is not a political agenda. His agenda is a salvation agenda," Perry said.
To be sure, the stance speaker's took on many issues would, were they the agenda of a viable candidate for office, have political consequences. Vonette Bright, founder with her husband Bill of CRU (formerly Campus Crusade for Christ), called for the reinstatement of the display of the Ten Commandments in classrooms and for prayer in schools.  Bickle's love, on God's terms, was aimed at homosexuality. Bickle, and others, including conservative undercover activist Lila Rose, asked for America to be forgiven for (and to immediately end) legal abortion.   All calls were met with enthusiasm from the believers in the stadium as they prayed for mercy.
When speaker called for repentance, the attendees inside were joyful, energized.  Some lay down on the ground, hands outstretched.  Others danced in the aisles. Praise music played in between speeches.  Praise music played underneath speeches.  The guitar, throbbing, epic in the same way that U2 is epic (melodramatic but effective), was always there, egging on the crowd.  If I were a believer, I'd say the Spirit was moving in Reliant Stadium.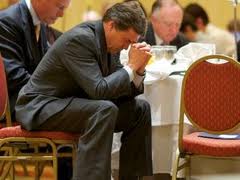 As the music played, one attendee, Glenn, paced up and down the stadium floor, restless but smiling. He had on a yarmulke, wore a tan shirt and pants and laid his hand on my shoulder when I approached him.  He referred to himself as a Jew first and a Christian second, a Born-Again Christian. When I asked why he was at the Rally, he got so close I could hear him over the music and the crowd and said: "First," and held up a finger, "I got the Law. Then," another finger, "I got the Word. Third," another finger, "I got the Spirit."  He wasn't the only yarmulke wearer there.  After speaking to Glenn I spotted four others.  And then Don Finto, founder of The Caleb Company, began to speak about Israel.  And Jewish people.  He urged them to "come to their own Messiah."
But bigger than saving Judaism from itself, The Response aimed to contribute to a Third Great Awakening for all Americans.  The mechanics of what exactly they were calling for is a bit more clear when one looks at the scripture quoted, the topics addressed and the people behind the rally itself: sponsors, endorsers, and participants.
Some reporting has been done on connections that rally leaders have to New Apostolic Reformation (NAR) theology, a sect of Charismatic Christianity that makes some "unconventional" interpretations of Biblical passages.  For one thing, they look to Joel before Revelation for information about the End Times.  The book is what organizers call the basis of The Response; a week before the event, registered attendees were asked by email to read Joel 1 and 2.  Speakers also cited Joel 2:12-17, acknowledging that it was a theme of the day.  Perry read at the event:
"Even now," declares the LORD, "return to me with all your heart, with fasting and weeping and mourning." Rend your heart and not your garments.  Return to the LORD your God, for he is gracious and compassionate, slow to anger and abounding in love, and he relents from sending calamity.

Who knows? He may turn and relent and leave behind a blessing–grain offerings and drink offerings–for the LORD your God.

Blow the trumpet in Zion, declare a holy fast, call a sacred assembly. Gather the people, consecrate the assembly;  bring together the elders, gather the children, those nursing at the breast.  Let the bridegroom leave his room and the bride her chamber. Let the priests, who minister before the LORD, weep between the portico and the altar.  Let them say, "Spare your people, LORD.  Do not make your inheritance an object of scorn, a byword among the nations. Why should they say among the peoples, "Where is their God?"
He also read the following two passages:
Isaiah: 40 28-31
… Even youths grow tired and weary, and young men stumble and fall;  but those who hope in the LORD will renew their strength.
Ephesians: 3 14-21:
For this reason I kneel before the Father,  from whom every family[a] in heaven and on earth derives its name.  Now to him who is able to do immeasurably more than all we ask or imagine, according to his power that is at work within us, to him be glory in the church and in Christ Jesus throughout all generations, for ever and ever! Amen.
The three quotes outline the stakes as greater than and, perhaps, irrelevant to, the "separation of church and state" as we understand it today.  We're all able to believe what we want but we all must come around to abiding by God's law.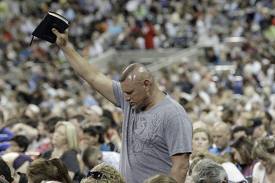 In the book of Joel, a devastating plague of locusts batters Joel's country, both the civilization and the natural world it is comprised of.  He interprets this to be God's judgement on His people.  "Blow the trumpet in Zion," Joel and, simultaneously, Perry, warn us, and call believers to repent to avoid total calamity.  After the nation is delivered from its current plague, all the community will experience intimacy with God, an intimacy awarded to Prophets: visions and dreams, the Spirit.  And then, Judgement Day.  In Joel, Judgement Day is talked about mostly in terms of nations.  Individual repentance is subsumed by national repentance and the fortunes of the nation pivot upon obedience to God. A nation's fate–both worldly and cosmically–depends on turning back to God.
In addition to scripture, Perry said, in his own words:
Lord you are the source of every good thing. You are our only hope. And we stand here before you today in awe of your power in gratitude for your blessing in humility for our sins. Father our heart breaks for America.  We see discord at home, we see fear in the marketplace, we see anger in the halls of government and as a nation we have forgotten who made us who protects us who blesses us and for that we cry out for your forgiveness.  We pray for our nation's leaders, for parents, for pastors, for generals, for governers that you would inspire them in this difficult time.  Father we pray for our President … we pray for our military and the families who love them. Especially for those special operators who lost their lives yesterday…You call us to repent Lord, and this day is our response.  We give it all to you, for thine is the kingdom and the power and glory forever, Amen.   Amen.
For our sake, Perry orchestrated the call to repentance foretold in Joel, and has graciously volunteered to blow the trumpet for our country.  In doing so, he has claimed the current Great American Crisis in the name of biblical prophecy, and revealed its only possible solution: the mercy of God.
To inaugurate or bless a Third Great Awakening but also to build continuity with the canon of American Great Awakenings, Jonathan Edwards was harked on Saturday.  This even was no "Sinners in the Hands of an Angry God": although one purpose of the day was to convert lost souls, it was called for the sake of the country's well-being above all else.  Edwards's most famous sermon, while about the needs of the community, takes dead aim at an individual's fear of death, and what comes after.
At The Response, fear of death was fear of American collapse: America exists and prospers by the mercy of God.  We have forgotten this and so we suffer calamity. This is also the familiar cycle in the Old Testament Book of Judges: Israelite apostasy, punishment from God, a chosen judge leads the people to cry out for mercy, and God rescues them.  While in Edwards' "Sinners" the mercy of God is a hand (invisible to some) holding men above the pit of hell with nothing else but air to stop their fall, at The Response the mercy of God is the existence of our nation as a city on a hill (yes, the Jesus/Winthrop/Reagan image was referenced repeatedly), of unique chosenness, of, as it says in Joel, the place where the Lord dwells (Joel 3:21). The City on A Hill is by now the most widely referenced image to invoke a special covenant between God an America; or the more broadly supported conservative belief in American Exceptionalism.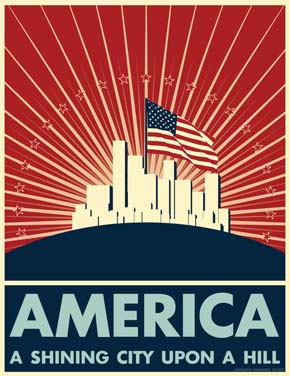 Dave Weigel at Slate called the event intentionally overwhelming, and it was. Overwhelming was precisely what they were going for.  For anyone in that room–media members and believers (not mutually exclusive) alike–Perry was a mobilizing figure.  The momentum of The Response (thanks to wall-to-wall press coverage) was the perfect springboard for Perry's Presidential candidacy announcement.
Perry's bid, however, may not be so simple as a well-orchestrated event like last Saturday's: he's now competing with Michele Bachmann, winner of Saturday's coveted straw poll in Iowa–and debatably with most of the other candidates already on the field–for the Religious Right's endorsement.  The Response beyond the experiential, including beyond the impression it left on journalists in the room, is not so certain to be enough.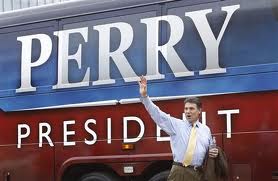 Looked at one way, last Saturday was evidence of Perry's Evangelical draw. When Perry returned to the stage a second time at the end of the Response, he was charged with the energy of success.  The Response made him look good, and he carved a place for himself in the Evangelical political field, one that had been previously dominated by Michele Bachmann.  Instead of participating in last week's Ames Straw Poll and debate in Iowa (in which, let's face it, no one really looked that fantastic), Perry kept to what worked at The Response. Last Saturday, he traded pulpit for lectern and chose to enter the presidential race with a speech at the RedState gathering in South Carolina.  He pitched his political call to the American people:
It's time for America to believe again. It's time to believe that the promise of our future is far greater than even our best days behind us. It's time to believe again in the potential of private enterprise, set free from the shackles of overbearing federal government. And it's time to truly restore our standing in the world, and renew our faith in freedom as the best hope for peace in this world that's beset with strife.
While it might seem as if Perry is speaking in believer code here –taking the success of the "hope and change" approach to a presidential campaign and infusing it with Evangelicalisms to attract the Republican base–the message of his campaign announcement is identical to the message of The Response: proper, righteous devotion to America's uniqueness will free it from its current crisis. That uniqueness is wholly and utterly a result of its people's standing with God.  To paraphrase one of The Response's marketing slogans,  America's only hope for recovery is to get on its knees, and stand up again with only God's will to support them.  This was the call of The Response.  This is Perry's call for his presidential campaign.  Of course, he's at the front of everything, his perfect hair gleaming in the spotlight, blowing that trumpet.
That's one way to see it, anyway. Looked at another way, The Response was also a half-filled stadium with a crowd about the size Joel Osteen,  also based in Houston, pulls in every weekend for church service. Osteen, by the way, held his own event  on the day of The Response, in Chicago, with an estimated crowd of 37,000.   Not that it matters.  The success of The Response is that we're looking this closely at Perry at all.
Abby Ohlheiser is a journalist and graduate student at NYU's Religion and Journalism program.