Abby Ohlheiser: Depending on your perspective, The National Portrait Gallery has either ruined Christmas or World AIDS Day (December 1) this year. On Wednesday, the institution caved in to "hours" of political pressure from conservative politicians and the Catholic League and removed a 4-minute excerpt of David Wojnarowitz's piece, "Fire in my Belly" from its current exhibition "Hide/Seek: Difference and Desire in American Portraiture." Wojnarowitz, who died in 1992 from AIDS-related complications, created the work in response to the suffering and death of his friend and lover. The featured excerpt contained 11 seconds of ants crawling on a crucifix. The Atlantic Wire has a round up of the coverage. There's a different excerpt (containing the ants on Christ images) from the 30-minute work available on YouTube.  (Text on the page reads the clip "may contain material flagged by YouTube's user community that may be inappropriate for some users.")
As Blake Gopnik has already pointed out, Wojnarowitz's use of the image of Christ is part of a "long, respectable history of showing hideously grisly images of Jesus" to address the suffering of all mankind. In Wojnarowitz's case, he was trying to speak particularly about the suffering of those who died from AIDS. The piece, along with the exhibition, has become part of a second history: the "not on the taxpayer's dime!" argument for censorship of controversial works of art, especially those depicting images of LBGT love.
The consensus seems to be that the conservative CNS news brought the exhibition to the attention of, among others, Representative Eric Cantor and Speaker of the House designate John Bohener. Perhaps inspired by the headline of CNS's original article on the exhibition, "Smithsonian Christmas-Season Exhibit Features Ant-Covered Jesus, Naked Brothers Kissing, Genitalia, and Ellen DeGeneres Grabbing Her Breasts," Cantor condemned the exhibition as "an outrageous use of tax payer money and an obvious attempt to offend Christians during the Christmas season."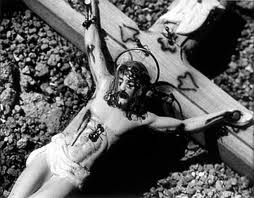 Both Boehner and Cantor, anticipating the Republican takeover of the House of Representatives, have leveled thinly-veiled threats at the Smithsonian's federal funding. Looks like NPR might get a temporary reprieve from the "culture war" limelight.
Read S. Brent Plate's article at Religion Dispatches here.