Nasya Bahfen: Much of the twitterverse was definitely not down with soccer's world governing body FIFA handing the 2022 World Cup to a tiny oil-rich Middle Eastern nation not renowned for its press freedom, and with a conjoined part-Islamic, part-civil legal system. The awarding of the biggest sporting tournament in the world to the emirate of Qatar will mark the first time the soccer World Cup is hosted by an Arab country.
As "Quatar" and "Katar" trended on the microblogging site ("FIFA is corrupt! According to twitter, they gave the world cup away to 2 countries which don't even exist", tweeted Pakistani blogger Ahmer Naqvi) the disappointed supporters of other World Cup bidding countries (such as the United States and Australia) bemoaned Qatar's searing desert temperatures, its lack of facilities (which have not actually been built – video of the proposed stadia are available online) and its supposed lack of soccer tradition (questionable, given that the Middle East is so soccer mad there are plans for both an academic journal and book on the history of the sport in the region).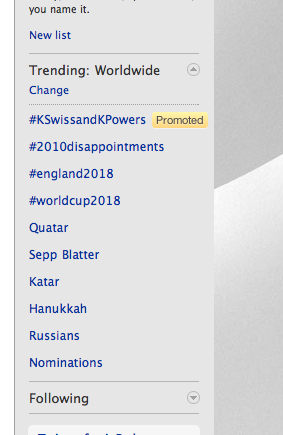 Much of the twitter criticism of FIFA's choice focused on Qatar as an Arab and Muslim country. Comments voiced fears that there would be a lack of alcohol for soccer patrons, that women would not be permitted to participate and there were throwaway references to the stadium's use for public stonings and beheadings after the World Cup.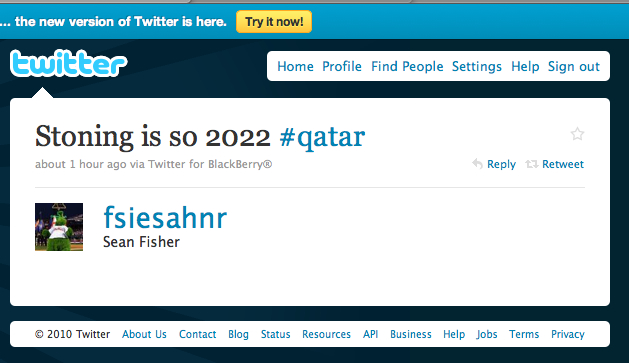 Other twitter users were skeptical about the international media's ability to do Qatar and the region justice. Australian writer Alex Lobov predicted audiences will have to put up with never-ending scenes of women clad in black burqas in shopping malls, after having suffered the repeated mispronunciation of the emirate's name as "cutter" (which is actually a close Anglicized version). Sports manager Chris Tanner commented that, while people could question the FIFA's selection process, "xenophobia shouldn't come into it like it does at Fox." Journalist/blogger Daniel Phan suggested that a World Cup in Qatar "could provoke positive change in relations between the Islamic world and the West".
Whether infused with disappointment, or laced with optimism, the reactions on twitter about Shariah, alcohol, stadiums and hope are knee-jerk and immediate. The dust has not settled from the parties on the streets of Doha but many of the men who might represent their countries in 2022 are now children in their early teens or even younger. Who knows how Qatar, the Arab region, social media, or the world game will change – twelve long years from now?