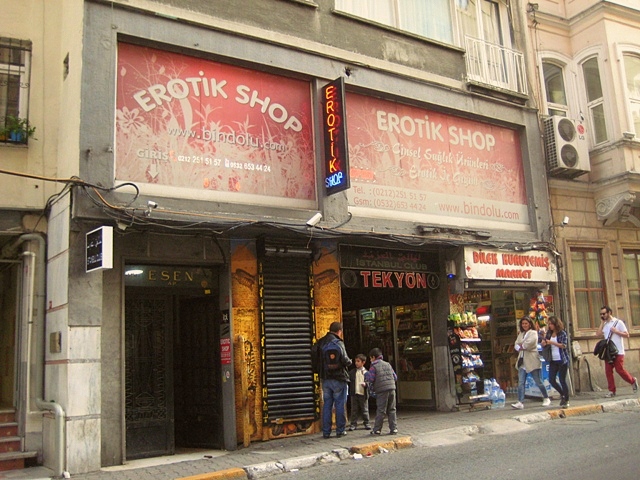 By Elizabeth Hewitt
"There's no pig in any of it," Murat Guler, the proprietor of a second-floor establishment on Istanbul's Tarlabsi Boulevard, told me. He had moved a few dildos across his desk when we sat down so we could see each other clearly. A blond mannequin in the corner behind him modeled a faux-leather body suit.
Central Istanbul is chock-a-block with sex shops, if you look for them. They don't display their wares in windows next to the Gap, but they're not hidden either. I first started to notice just how many upper story "EROTIK" signs flashed around the bustling Taksim area this fall, after I read a short news piece in an English-language daily about the opening of Turkey's first online halal sex shop. In a country that officially registers at 99.8 percent Muslim, a Turkish entrepreneur had seen a niche opportunity and launched HelalSexShop.com. Halal, or helal in Turkish, means sanctioned by Islamic law. Curious as to what specifically isn't halal in an ordinary sex shop, I went with a friend to consult with Istanbul's erotic shopkeepers.
Guler reports having plenty of Muslim customers—both local Turks and Arabs vacationing from other countries in the Middle East. HelalSexShop.com, he noted dismissively, is just a different way of marketing the same things.
And yet, if it is a gimmick, it's a good one. Though not the world's first halal sex shop—El Asira opened in the Netherlands three years ago, and a similar small business operates in Bahrain—it claims to be the first in Turkey, a title that has landed it in newspapers and on blogs and radio shows round the globe. It has been lampooned and lauded by commentators inside and outside of Turkey.
At a time when the so-called "Islamization" of Turkey is a hot topic of debate, the opening of a sex store catering specifically to Muslims is headline-grabbing indeed. But does this new entrepreneurial endeavor indicate anything about how Islam and sex are viewed or practiced in Turkey today?
A few inches of fresh snow coated the capital city when I set out to meet the founder of HelalSexShop.com. Haluk Murat Demirel lives in an apartment complex in Sincan, a suburb at the very end of Ankara's commuter rail.
The 38-year-old grew up in Sincan and now lives with his wife and two-year-old. He attends prayer at the neighborhood mosque, but doesn't consider himself a part of its community. He works in electronics.
Normally the business is based in his partner's apartment nearby, but they had friends in town, so Demirel set up shop in his living room when I came to visit. An array of more than three-dozen tubes, boxes and bottles were displayed on the dining room table when I arrived at his third-floor flat. He talked me through the gels, sprays, and assorted aphrodisiacs, and showed me the plain brown packaging they use for shipping, part of the site's discretion guarantee.
Demirel came up with the idea in early 2013 after a female friend, a new mother, confided in him that her libido had been absent since she gave birth. Embarrassed to consult a pharmacist, she turned to the Internet to try to find a product to restore her sex drive, but she was overwhelmed by the pornographic images on European and American sites. Five months later, Demirel, with two of his friends on board as business partners, launched their self-built website. Today, a Google search of his name turns up news stories from around the world.
Visitors to HelalSexShop.com are greeted by a modest royal purple backdrop with hot pink font. The interface is simple, devoid of scantily-clad women or other pornographic images. Men access their section of the shop by clicking an outline of a seated man, women by clicking the silhouette of a woman wearing a headscarf.
Gels, lubricants and sprays promise to engorge, excite, and enhance. For 74 Turkish lira (roughly $37) you can purchase one of the site's most popular products for women: a 35ml tube of Scream Orgasm Cream. For men, the top items are pills and sprays intended to make them last longer. But for the absence of phallic and battery powered products (aside from a vibrating ring), the stock does not appear to be particularly halal-specific. Most of the labels are written in English and the products originate from outside of Turkey. So what makes this all suitable to Islam?
No pork products, of course—not necessarily a high bar to meet. But unlike regular sex shops, Demirel can guarantee that everything sold from HelalSexShop.com is alcohol free.
"We don't have any products that a Muslim cannot use, like sex dolls, sex toys. Those are forbidden in Islam so we don't sell them," Demirel said. "That's the best a Muslim can get from a sex shop," he laughed.
In addition to a full range of stock for both sexes, the website offers advice for Islam-approved sex. Complete with Quran passages, the Sex in Islam section spells out what exactly is and isn't halal in the bedroom. Demirel compiled the blurbs himself from writings of Islamic scholars he found online and in books.
HelalSexShop.com launched in October 2013, at the end of Eid al-Adha, the 5-day Muslim feast of sacrifice holiday. Without much of an advertising campaign, the site received little attention at first. Then it exploded.
By Monday morning, the Turkish press had picked up the story. By Monday afternoon, the international press had too. "We were on the news even in countries I had never heard of before," Demirel said. Written up by Reuters, discussed on Czech radio. The BBC sent a team to Sincan to interview Demirel. HelalSexShop.com showed up in news clips from Germany, New Zealand, the United States, Sri Lanka, and beyond.
"The reason I guess is the words," Demirel said. "Halal and sex. Those words were really interesting for a lot of people."
"The world really got surprised," Demirel said. "Americans and Europeans were very surprised. Even maybe Arabs and Muslims were very surprised." Meanwhile, as HelalSexShop.com generated columns and analytical pieces in everything from gossip sites to scholarly journals oceans away, his wife, his friends, and his community in Sincan took it in stride. "People in Turkey did not get surprised much."
That's not to say the story went unnoticed in Turkey. Actually, it generated a flood of media commentary, almost entirely from secularists and leftists, Demiral recalled. "They reacted because "the AK Party has become really strong in the country and Muslims have gone too far," he said, referring to the ruling Truth and Justice Party.
Barin Kayaoglu, a history Ph.D. student at the University of Virginia who wrote about HelalSexShop.com for Al-Monitor, explained the silence from the conservative commentators. "Anything they'd say, write, or report would've been taken as more food for comedies by people on social media."
Secularists ridiculed the idea of a halal erotic store, joking about "blessed" sex toys, while other's noted it to be an opportunistic capitalist enterprise. The varied response illustrates the huge variety of attitudes towards sex in Turkish society. "Many Turks would still have trouble going to pharmacies and asking for contraception," Kayaoglu said. Much like the woman who inspired Demirel's idea for an online halal sex shop.
"It is a trivial, sensational news story," Belgin Alkatan, a columnist on gender and sex issues for Hurriyet Daily News, told me when I asked her if HelalSexShop.com would change how sex is approached in Turkey. "How can the opening of one shop change a discussion in a country? I don't think many people know about it."
In parts of Turkey, sex is an increasingly open topic. Simultaneously, a conservative tide within the country strongly rejects discussion of sex as  taboo. "Even the whole headscarf issue is about sex," Alkatan said. "Women are bound to cover their hair to not arouse any sexual feelings in men."
Women's bodies and choices have ended up as a prime battleground in the country's political tug of war. Prime Minister Erdogan has told Turks that, "at least three children are necessary in each family," and advised the country's expectant mothers against Cesarean births. Women's clothing choices are routinely the subject of national law: in early October, Turkey's long-standing ban of the headscarf was significantly relaxed. The following month, parliament lifted a dress code that required women to wear skirts or dresses, rather than pants, into the Assembly.
"This government considers it has a right to intervene in everybody's life, more so in women's," Alkatan said.
Only a few months old, HelalSexShop.com still has a long way to grow. Demirel still works his day job and helps run the site on the side. He's planning to increase the range of products, and wants to introduce costumes and lingerie.
Along with the international attention HelalSexShop.com generated have been requests for sales to Pakistan, Egypt, and around the world. Demirel is considering trying to launch English and Arabic websites, but in the immediate future he will start selling products on eBay.
"At least in my opinion, Turkey is the most democratic, liberal country among the Muslim countries," Demirel said, noting that in Egypt and other parts of the Middle East, a sex shop like his wouldn't be possible. Within Turkey's range of conservative and secular voices, all piping in with advice on how sex should be addressed, there is the space to open a shop that caters to casual and devout Muslims alike.
"When you look from abroad, Turkey is like a closed community with big beards, like Arabs," said Demirel. "But as you can see it is like a European country."
Elizabeth Hewitt is a freelance journalist based in Istanbul, Turkey and Vermont. She has written for regional and national publications, including Christian Science Monitor and Slate, and holds a master's degree in journalism from New York University. You can read more of her work at emhewitt.com.