Hallelujah, We're Born Again!
Jun 5, 2012
•
4:45 pm
1 Comment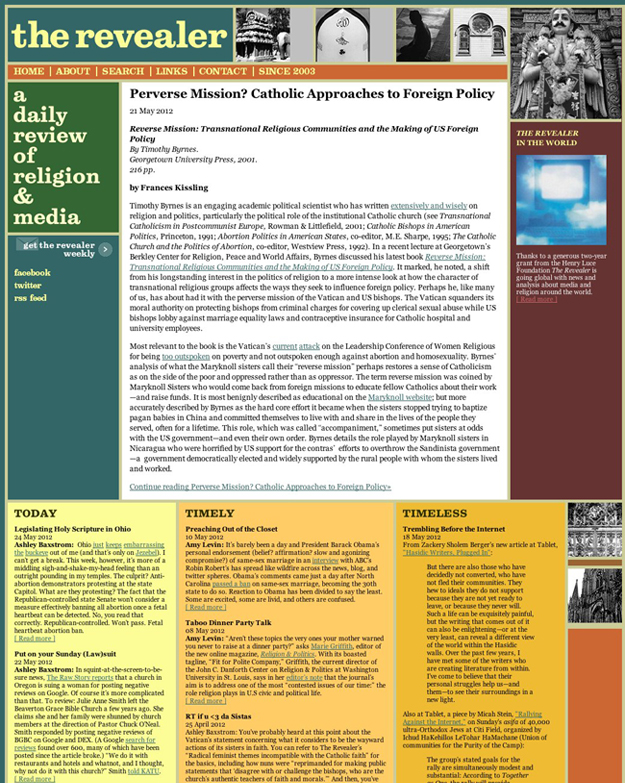 Back in 2003, when dinosaurs roamed the Internet, The Revealer was pretty novel. Nobody was writing about religion, certainly not with the wit and irreverence of our founding editor, Jeff Sharlet. We looked different too, with columns titled Today, Timely and Timeless that ripped off both print newspapers and Dennis Dutton's amazing site, Arts and Letters Daily.
Nine years later we were still using the same site design that Jeff commissioned in the beginning (although when I took over in 2010 I had the good sense to update the back end).  It's a look that we kept for so long because, well, it wasn't broke.  But it was breaking.
Today we launched a new design for The Revealer.  We've got some kinks to work out and we're doing a full archive audit this summer, but all in all we're happy to have kept some of the original colors and ideas while updating our look.  Words may be our first and favorite media, but we hope the new design will help us to think and write about others.
If you get the chance, write to me (ann@therevealer.org) and let me know what you think!